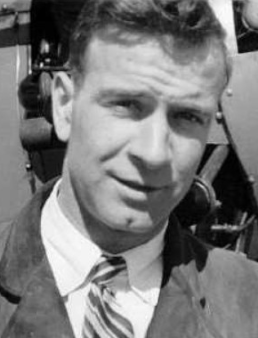 Clem Sohn

Clem Sohn was born on December 7, 1910 to Rosalia and Gottlieb Sohn. He lived on a farm in the Fowler, Michigan area until his mother passed away when he was 8 years old. Clem went on to live with his aunt in the St. Johns, Michigan area until 1928 when he moved to Lansing, Michigan to live with his father and step-mother.
Clem graduated from Lansing Eastern High School in 1929 where he was a member of the Aviation and Knights of Industry clubs.
Clem became a pilot, parachutist, and batwinged flyer. He was known throughout the US and Europe for his daring flights. Clem died April 25, 1937 while performing in Vincennes France.
See: Clem's Final Flight
See: Photos from the 50th Anniversary
See: How Clem Flies
Photo courtesy of Alice Pline
Margot Fonteyn
Margot was born May 18, 1919 as Peggy Hookham to parents Hilda and Felix Hookham. She lived in London England for the early years of her life beginning ballet lessons at the age of four. When Peggy was eight, her family was split up, never to live together again after her father took a job with the British Tobacco Company in Shanghai China. Felix left first; Peggy and her mother Hilda would leave later.

Peggy continued to receive dance training in China, but her mother was concerned that she would not get the exposure she needed there, so they moved back to England. Peggy Hookham would eventually dance for the Sadler's Wells troupe, which later became the Britain Royal Ballet. She would change her name to Margot Fonteyn, and become the world's best ballerina.

Her life would intersect with Clem's shortly before he died. Clem sent her a bouquet of flowers and a note after one of her performances. Margot wrote about this in her autobiography as well. Margot was not present at Clem's last performance in Vincennes France.

Margot received the formal title of 'Dame' in 1951 for her contributions to the art of ballet. She married Tito Aries in 1955. He was a Panamanian diplomat who eventually lead a foiled attempt to overthrow the government of Panama. He was left a quadriplegic after an assassination attempt in June of 1964. Margot retired in 1979 at the age of 60 after a 45-year dance career.

Margot continued to care for her husband Tito until his death in 1989. That same year Margot learned that she had contracted ovarian cancer. On February 21, 1991 Margot succumbed to cancer at a hospital in Panama City.